Hey Mosh Pit All Stars... Attack of the Caption is back! Well, looks like Attack Of The Caption claimed another civtim. So do we continue to mock T.O with Attack of the Caption? Damn right we do!!!! Here's your chance to score a "Weekend of Uproar". If your caption matches the caption we gave for this picture, you can score a Weekend of Uproar. A pair of stubs to see The Rockstar Energy Drink Uproar Festival stops at Rock Hard At The Park Sep 21st, The White River Amphitheater Sep 22nd, and The Clarke County Amphitheater just North of Portland on Sep 23rd. Plus $250 in spending cash and a $200 gas card. "Caption This!" and win.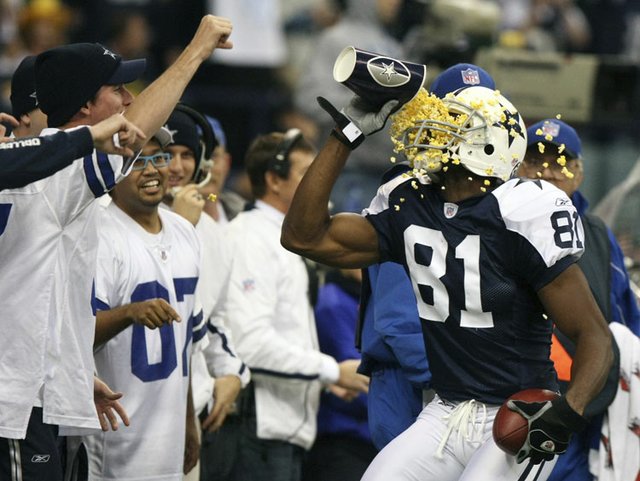 .:Click here to send us your caption:.
Official Rules:
1. Listeners are invited to submit an caption to the picture posted above to on our website Rok945.com beginning August 13th and continuing trough the end of the promotion on September 10th. If enterants submit a caption that matches the caption the staff of KHTQ gave this picture, they will win the grand prize. If multiple people submit a caption that matches the stations caption, those people will be put into a drawing to determine a grand prize winner. Winner will be announced on September 11th 2012. At the conclusion of the promotion one grand prize winner will be named and will receive a 2 tickets to The Rock Star Energy Drink Uproar Festival tour stops in Post Falls ID on 09/21/12, Auburn WA 09/22/12, and Ridgefield WA 09/23/12. Included will be a $200 gas card and $250 in cash. Grand prize total is $705
2. Employees, interns, and independent contractors of KXLY Broadcast Group, affiliated sponsors, and employee affiliates and their immediate families and significant others or employees of participating trades are not eligible to enter or participate in the use or enjoyment of any prize.
3. Winners must be over the age of 18 as of Aug 13th 2012.
4. Prizes are non-transferable and non-redeemable for cash. No substitutes of prize will be permitted.
5. KXLY Broadcast Group and affiliated sponsors are not liable for the failure of any third-party prizes. KXLY reserves the right to not award 3rd party prizes to contestants who have, in KXLY's sole judgment, failed to comply with terms of previous contests run by the KXLY Broadcast Group
6. Winner is responsible for all local, state, and federal applicable taxes, meals, all gratuities and incidental expenses arising from this contest.
7. By participating in this contest, contestants grant KXLY Broadcast Group permission and the right to publicize and/or broadcast contestants name, character, likeness, voice, and fact that he/she has participated in or won a KXLY Broadcast Group contest without any additional compensation.
8. Decision of KXLY Broadcast Group judges are final.
9. By accepting any prize, winner releases KXLY Broadcast Group from any and all liabilities associated with said prize.
10. KXLY Broadcast Group reserves the right to change the rules or discontinue the contest at any time without notice.
11. Winners must reside within the designated market. If the winning entrant is found to be live outside the specific region they will subsequently be disqualified and a new winner will be chosen.